Several professional Call of Duty players and star content creators expressed their frustrations with Activision for not inviting them to their $250,000 Modern Warfare Streamer Invitational tournament.
Set to take place on December 10, the Modern Warfare Streamer Invitational features 20 "hand-picked Twitch streamers" split into four teams competing against each other for $250,000 in prize money and "supreme bragging rights."
While there are some CoD-related streamers playing, like TeeP and Hitch, many quickly noticed Activision had omitted some of the community's biggest names.
[ad name="article1″]
Instead, they opted to go with a mixed bag that includes Fortnite pros such as Team Liquid's Vivid and NRG's Symfuhny, GTA roleplay stars LordKebun and Spaceboy, Overwatch pro Seagull, and more.
ACHES, captain of the Los Angeles Guerrillas team and a very outspoken player, was quick to point this out in a sarcastic tweet.
#COD_Partner baby!!! pic.twitter.com/J96SdtvCZE

— LA – PATTYP (@ACHES) December 9, 2019
[ad name="article2″]
Speaking of sarcastic tweets, none were more so than Crimsix's post, as the Dallas Empire star took the trolling to a whole new level by announcing that he too was competing at the event when he actually wasn't.
Fans were quick to realize that he was trolling when they saw him name former Halo pro 'SUDDOTH2' and legendary Formula One racing driver Fernando Alonso as two of his teammates.
HUGE NEWS!

Tomorrow I am teaming up with Aches, Clayster, Pamaj, SUDDOTH2, and Fernando Alonso in the Call of Duty Streamer Invitational! This is for $250k!!!

Starts at 4pm PST! #COD_Partner #Modernwarfare @CallofDuty https://t.co/rKQmuE74CE

— Empire C6 (@Crimsix) December 9, 2019
[ad name="article3″]
Pamaj, who Crimsix jokingly named as one of his teammates, also had something to say about his omission. Unlike some of the pro players who aren't massive content creators, Pamaj is as big as it gets when it comes to CoD YouTubers, so he had a reasonable bone to pick.
And to those who may contend that he didn't get invited because he's a YouTuber and not a streamer, the FaZe Clan star revealed he had streamed over 250 hours just this past month.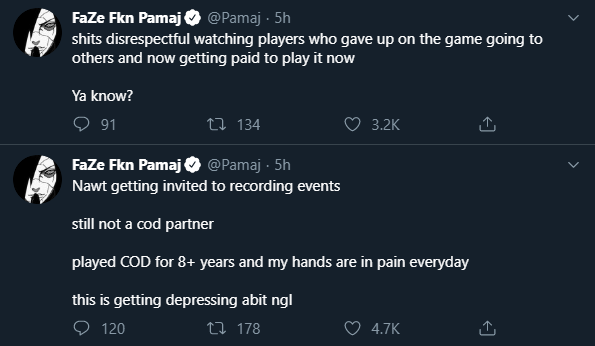 Speaking of big names in the community, none are bigger than Chicago Huntsmen stars Scump and FormaL, who are known as the T2P duo after coining the phrase 'Time to Pound' during the OpTic Gaming days.
Neither of them were invited to compete in this tournament, which FormaL and Scump both definitely took notice of on social media.
Facts

— Seth Huntsmen (@scump) December 9, 2019
While not a pro player anymore, NAMELESS also chimed in with his disbelief at some of the names that were included on the list of 'CoD Partners' and the $250K tournament.
Seeing some people on this #codpartner list in this 250k tournament. Shocking but wow grats on the cash! pic.twitter.com/Gy8byA050E

— Anthony Wheeler (@NAMELESS) December 9, 2019
Despite the outrage from Call of Duty pro players, content creators, and the general fan-base, it doesn't look like Activision will be making any changes to the list of streamers they invited to compete in their $250,000 tournament.
The competition will be taking place on Tuesday, December 4, kicking off at 4 PM PT / 7 PM ET live on Twitch.